Our Guru ji Sri Sri Jagadish Baba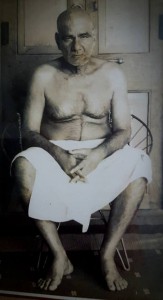 He was born in the village Tarapur (15th September), near famous Tarapith (Where Maa Tara, One of the Bidya of Dashamoha Bidya arrived by the prayer of Bamyakhepa alies Bamdeva) in the Birbhum District of West Bengal, India.
His forefathers about hundred and fifty years back were not only the owners of hundreds of acres of land there, but had serious inclinations towards love of God, and spiritual consciousness.
His Grandfather's ashram was common meeting place for many Great Saints of that period. In such family, about 140 years back, Jagadish Baba, Our Teacher, was born. From the very childhood he was much closed to Bamdev and other saints of Tarapith.
At the age of seven he had drawn towards a sense of Spiritual Awakening. He left the worldly life at the age of 17 and sat in meditation at a dense forest lying very close to Tarapith Cremation Ground. After a resolute meditation for a long span of years, he realised the supra natural bliss.
He lived in God and Bliss in that manner until he was 40, when he wandered on for about 20 years. During that time he was in Vrindaban for a considerable period of time where he attained the highest wrung of Vaishnava have been able to experience spiritual advancement and peace through his guidance and contact. It's true that he never receive any formal education, yet by the grace of God, he has been able to satisfy innumerable queries put forth by many acknowledged scholars.
His "Asan" at Kankali Pith (One of the Pith of 51 Sati Pith) , 7 KM away from Bolpur- Shantineeketan, Birbhum, WB, is still there and very few people know about it. He is strongly opposed to publicity in any way. He was control over 64 Tantra's and deeply liked by Bamdeva. We are too handicapped to understand his greatness but yet we can realise his endless and divine love for human society which is considered to be the "Élan – Vital" of mankind.
Being drawn by his inexplicable love and sympathy for people, we all gathered ourselves at his feet. Many lost soul has found Bliss and relief through his blessing. Many a suffering has turned into happiness at his contact. Many a frustrated man has recouped his strength and energy from him. The solutions to all the conflicts and differences among the people of the world can be had from him.
Sri Sri Jagadish Baba left the wordly body on 31st January, 1976.