Joy Guru! Today is Guru Purnima ! On this sacred occasion, we at Shatan Ashram pray for blessings from Jagadish Baba. May he fill our lives with light, knowledge and power to help them who need it the most.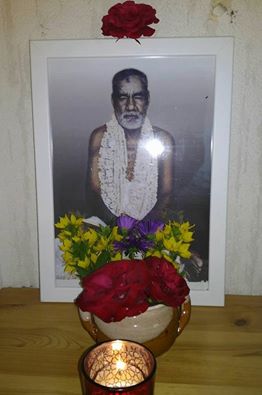 Excerpts from Swami Atmananda's FB Post:
GURU PURNIMA ~ The Joy of WISDOM
Life has taught us so many things – what is right and what is wrong.. What is real and what is unreal…… Why we chose that which was not right or that which was right? This we don't ask somebody. Somebody inside us tells. Somebody inside us tells 'This is right or wrong' , honor that. When we reflect on our own life and honor the wisdom that life has offered us, that is honoring the Guru because the wisdom is the Guru Principle. The Guru is present whiten us.. This Guru Purnima, it is the day to be grateful to our Guru. When we see how wisdom has transformed our life, we feel grateful for all that has come to our way.
Wisdom is there in each and every one of us, but we must through light on our life, because when we through light on our life, wisdom dawns. Every day could be GURU PURNIMA in our life when we honor what life has taught us.
Have blissful GURU PURNIMA.